Ben Simpson
Wednesday, March 19, 2014 at 10:45AM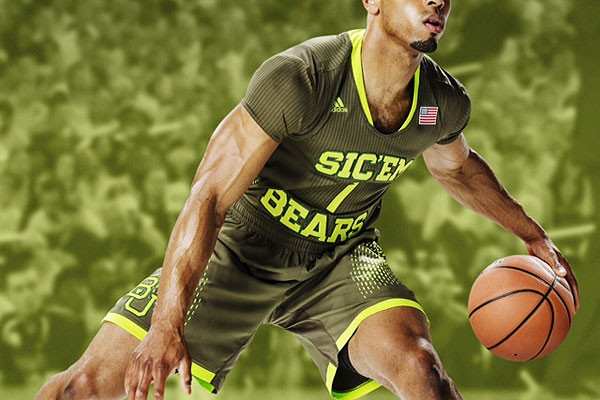 Baylor's Postseason Uniforms, Image via ESPN.com
David Ubben has done a nice job of sports journalism and religion reporting. You should read his piece at FoxSports.com.
I'm a Baylor alumni. I'm also a huge basketball fan. When Baylor hoops is on television, I watch. If I can't get a feed, I listen to the radio.
This season has been filled with ups and downs. Baylor had an early run that I didn't expect, having great success against quality opponents during non-conference play. Looking at the roster prior to the season, I knew Kenny Chery was the unknown quantity who would define this season; Baylor squads in the recent past have depended on excellent guard play to find success. Most pundits have marveled at Baylor's frontcourt in recent years, but the production on the court hasn't come in ways traditional to big men. We haven't played inside-out, or exhibited strong back to the basket skill.
When conference play hit, like most I was shocked by the 2-8 start. But I was not overwhelmed. To open the year, I thought we played beyond our talent level. Over the first ten in conference play, I thought we swung back and underachieved. This year, when Baylor has played their best ball, and their worst, I've been mystified not because of the performance, but because of the lack of consistency.
The last eight games of conference play were surprising--I thought we were dead in the water. I was in attendance on February 15 at the Ferrell Center, when Baylor prevailed in 2 OTs versus Kansas State. I knew that was a must win game. But I also thought we'd have to get to 8-10 to have any hope at an NCAA bid. At 9-9, I thought we'd be a lock, even before the nice run to the Big 12 Tournament Final in Kansas City.
The Baylor team we've seen over the last 12 games has been fun to watch. I still don't think we play pretty ball. But Jefferson and Austin have done a great job or protecting the rim, and the rotation up top from Chery and Heslip has been surprisingly effective. On the offensive end, the combination of Chery and Jefferson has been dependable. Strong guard play from the PG, plus the athletic inside presence of Jefferson at PF has yielded success. Every night Jefferson has a double-double, Baylor has a great shot a victory--during the 10 game dry spell, he virtually disappeared.
As for Ubben's report, it's well written, and theologically informed. And I'm excited for Chery, Franklin, O'Neale, Wainright, and Prince. Scott Drew seems to be setting the right tone as well--one that fits with Baylor's overall ethos as a university committed to a distinctly Christian identity, but welcoming of all people. I'm glad to hear of chaplains like Scott Brewer and Mark Wible doing good work.
This is definitely an "up" for the year, and for the program. Regardless of what takes place this weekend, what has taken place with these young men evidences with what college athletics, and specifically my alma mater, are committed to. Changed lives.
From Ubben's column:
After a Tuesday practice on Feb. 25 -- 17 days after the loss to Kansas -- Drew and his team boarded a charter bus bound for Highland Baptist Church in Waco before traveling to face Texas on Feb. 26. Wible stepped into the baptistry waters at Highland Baptist in front of Baylor players, coaches, support staff and various others around the program. In front of about 50 people, he baptized Chery and teammates Gary Franklin, Royce O'Neale, Ish Wainright and Taurean Prince.
Baylor enters the NCAA tournament as a 6 seed in the West region, opening on Friday against Nebraska. I've picked Baylor to make the round of 16, losing to Wisconsin. I hope I'm wrong. This team has made two Elite 8 appearances in the last 5 years. It'd be great to see them surpass that barrier, and play in nearby Arlington.
Sic'em.
Email Article
|
Print Article
|
Permalink
|
in
Life
|
tagged
Baylor Bears,
College Basketball,
David Ubben,
NCAA Tournament,
conversion