Ben Simpson
Monday, February 1, 2010 at 6:19PM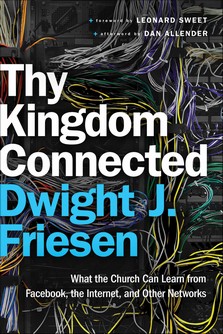 In Thy Kingdom Connected: What the Church Can Learn from Facebook, the Internet, and Other Networks Dwight J. Friesen explores the power of networks and the lessons the church can learn from observing and understanding how we are bound together through common relationships.
This book did possess some strengths, among them a treatment of Trinitarian theology, an invitation to dialogue and an openness to critique, and the important recognition that the Kingdom of God possesses an environmental component that supports an "ecological" approach to leadership. On this last point, Friesen's chapter on "Network Ecology" was quite good. Likening the church to a natural ecosystem, Friesen explores how the openness of such systems, the need for diversity, and the necessity of death in such systems lead to overall flourishing. One of the most powerful metaphors I've found for "Kingdom" among emerging leaders has been this very example. Once a leader sees oneself as an ecologist or an environmentalist, it changes how one relates and navigates various relationships, casts vision, and clears ground for growth. Of all the contributions in this book, I think this chapter is the most valuable.
Most of the reviewers I have read have been positive, and because of this I'll offer a couple of words of critique. Here are two of my points of contention.
First, is Friesen's account of networks and their applicability to the church based on a gospel dynamic? Within the first few sentences in his introduction, Friesen states "Many are wondering why so many churches and denominations are in decline when they are proclaiming the gospel," a statement which, prima facie is easily debatable and, indeed, on this very topic much ink has been spilled (with the rise of computing, when will this idiom change?). After making such a bold assertion at the outset, I was hoping to hear more about what this gospel might be that is failing to gain a hearing despite its proclamation. Unfortunately, I was disappointed. Friesen's articulation of the gospel is undergirded by the claim that in Jesus the fullness of life is found, and that the same fullness that is seen in Jesus can be realized in us. Friesen states, "This is God's mission: that human beings like you and me would live as fully alive, fully networked human beings."
That sounds nice. But it needs more fullness. More robustness. And, it needs to be accompanied by the avenue through which such a life can re realized. In other words, I need to know how to get plugged in to the with-God life. I need a theology of cross and resurrection, a more detailed account of justification and sanctification. I need something beyond a definition of life as "the relationship between chaos and order," something like "shalom," an ultimate vision of what a life of peace and reconciliation between human beings and between God might look like at the end of the ages.
To give him the benefit of the doubt, I would think that Friesen's presentation presupposes that the reconciliation found in Christ brings about the creation of a community wherein humanity can flourish through connection. As we come to know one another, love one another, serve one another, submit to one another, and live according to a collective vision of what constitutes new creation, the "good news" is imaged forth. While I find such imagery compelling, as I've already stated, I find presentations like Friesen's as insufficient. I appreciate that Friesen's "connected community" represents an embodied realization of the gospel. But I think any such community which embodies the gospel must undergird those claims with a discourse, or a language, that goes beyond practices. Proclamation and practice go hand in hand. In that sense, I am "And'ing" two concepts that have often been featured as part of the division between traditional and emerging leaders. At this point, I suspect Friesen would agree with my sentiment that proclamation or discourse is important, but I think I've made clear that I found his presentation leaning more in the other direction, and if his argument is to be strengthened a clearer and more robust articulation of the gospel is required.
Secondly, I found that the overall idea--that networks define our life and are pivotal for the realization of the Kingdom--was not supported by consistently strong biblical and anecdotal support. Concerning the former, like many emerging leaders Friesen relies on narratives from the Bible to illuminate his argument. Most of these examples seemed supplemental, however, and not foundational for Friesen's account, and this is the root of my concern. Concerning the latter, Friesen does relay a number of stories about his family, about his experiences as a church planter, and his experiences as a professor at a seminary, and his stories do relate to his central thesis, but do not add much to his argument.
Friesen's work here is interesting, though I wouldn't enthusiastically recommend it to friends and fellow church leaders. I picked up a few tidbits here and there (to cite one example, I enjoyed his insights from Martin Buber's I And Thou
), but finished unsatisfied for the reasons given above. I would've liked to see more theological robustness, a clearer articulation of the gospel, and more practical and concrete examples of how his theory has been embodied by church leaders. Philosophically, the account was fine, engaging, and compelling. But to really draw me in, I need to see the theological import and warrant, and how these ideas move beyond our current reality to the transcendent. I think Friesen's goal is to help us see the Kingdom as an eschatological community of connectedness, but he has to take us from here to there, and in order to do so his account must evidence more from the story of Scripture and historical theology.
The good news, of course, is that Friesen can do so. And if he doesn't take up the task, perhaps someone else will. If so, in the end the church will be better off for it, maybe even more connected.